Sofia (meaning the holy God's wisdom), the capital city of Bulgaria, is one of the most affordable central European destinations to host a corporate travel incentive in.
Founded 2500 years ago, Sofia is a is a dynamic, multi-cultural, fast growing, and modernizing city distinguished by its unique combination of European and Communist-style architecture as well as many beautiful orthodox churches.
Sofia makes for a great extension trip for a corporate incentive or group tour visiting Istanbul. There's a short 90 mins. flight or, the more exciting, six hour drive that goes straight through Bulgaria's second largest city, Plovdiv, originally a Thracian city, conquered by Philip II of Macedon in the 4th century BC and later invaded by Persians, Greeks, Celts, Romans, Goths, Huns, Bulgarians, Slav-Vikings, Crusaders and Turks.
A day tour through here would be a great history lesson! Read more
here .
With the newly built modern congress centers and more than 25 high quality, four & five – star hotels with well-equipped halls of different sizes and capacities, Sofia is an ideal destination for international congresses, symposiums, meetings, conferences, exhibitions, incentive trips and team building activities.

And last but not least the fact that Sofia is not among the well known incentive & meeting destinations makes it even more attractive because it offers better value for money.
Sofia has a humid continental climate with an average annual temperature of 10.2 C (50.4 F). The best time to visit Sofia are the months of July and August as these two summer months have the maximum hours of daylight and the gardens, parks and all the scenery come alive and look their best.
ITINERARY
Here's a quick guide to planning a 3 day trip for a group tour
or travel incentive for employees, dealers, distributors and doctors.
DAY 1
Sofia is a compact city and the best way to see it is on foot. This non-profit company organises a free 2 hrs. walking tour, covering about 35 sights, for small groups of individual travellers. For larger groups, get in touch with them in advance to work out the logistics. Pictured below is their route map and the sights you should expect to see in sequential order.
Experience a rafting adventure on the Struma river - a great team building activity in Sofia.
About 130 kms. (2 hrs.) south of Sofia is the Kresna Gorge, the launch point for rafting trips down the Struma river. This activity operates everyday at 10 am, 1 pm and 4 pm. The activity is suitable for beginners as well as experienced riders. The 11 kms. track takes about 3 hrs. to descend. Each boat, captained by a professional instructor, accommodates 6-8 persons.

Finish off the activity with a barbeque lunch or some cocktails while taking in the view and reliving the experience!


On the way back to Sofia, take a small detour to the Monastery of Saint Ivan of Rila.
The Rila Monastery is the most famous Eastern Orthodox monastery in Bulgaria. It is situated in the southwestern Rila Mountains, 117 kms. south of the capital Sofia.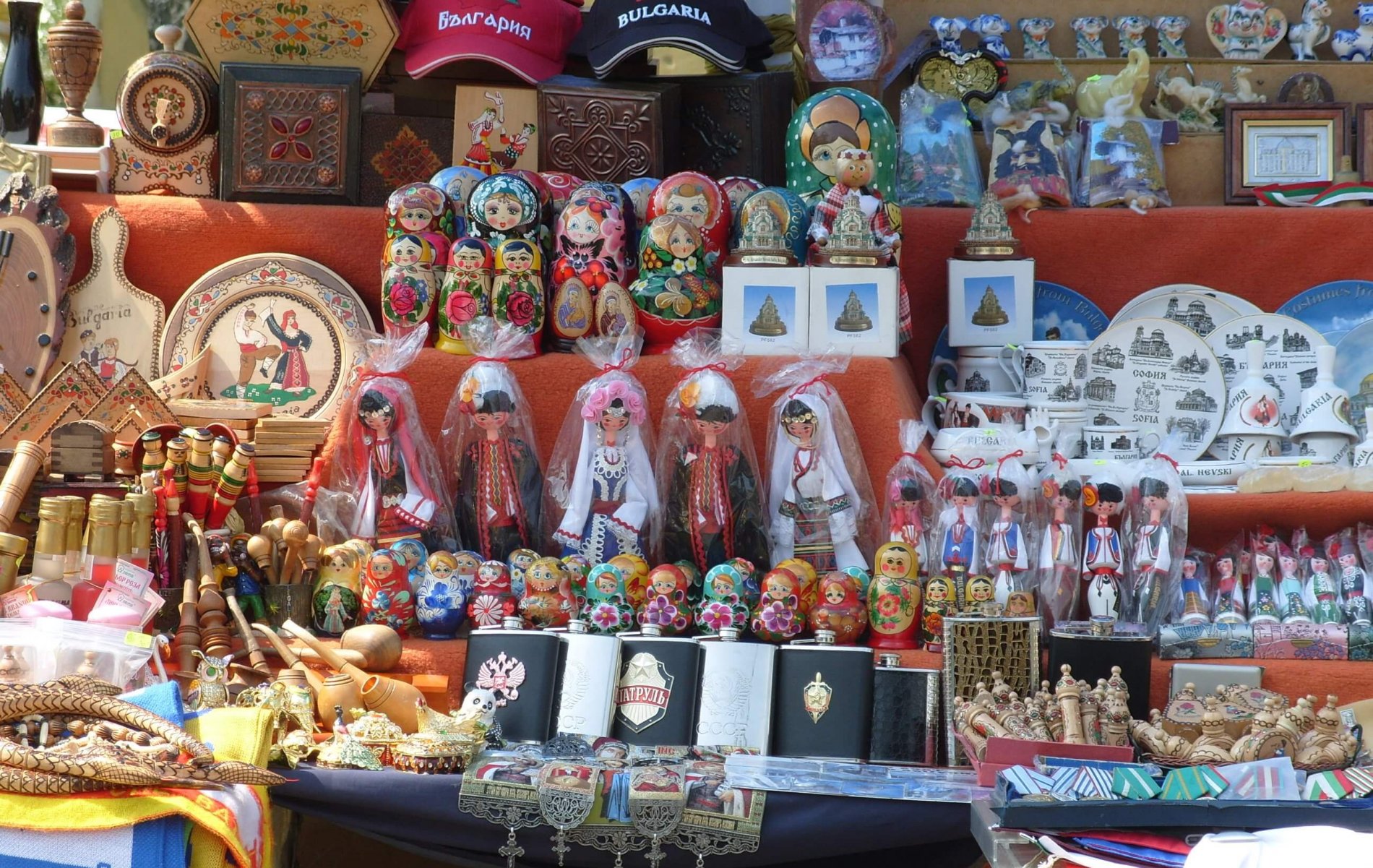 Here are some tips for your last day in Sofia. If you haven't already bought those all essential souvenirs to take back home, head towards the small shops in the subways.

The market in front of Alexander Nevski Cathedral is popular for the antiques from the communist era, icons and hand made home decoration.

The Mall is Bulgaria's largest shopping mall and also has a Carrefour store.

Vitosha Blvd. is Sofia's main shopping street. The retail outlets of many western brand names are concentrated on the stretch between Patriarch Eftimii Blvd. and St. Nedelya Square (Sheraton Hotel). This is in general an expensive shopping area.
Do get in touch with us, via the contact form at the bottom of the page, if you need help organising a group tour or a corporate travel incentive tour to Sofia, Bulgaria for your organisation's employees or channel partners.
annual convention in Sofia, annual event in Sofia, association conference in Sofia, association meeting in Sofia, Away Days in Sofia, best event company in Sofia, best event management companies in Sofia, best event organizer in Sofia, best event planner in Sofia, big event planning companies in Sofia, biomedical conference in Sofia, biopharmaceutical conferences in Sofia, business conference in Sofia, business conventions in Sofia, business events in Sofia, business leadership conference in Sofia, business seminars in Sofia, car dealer conference in Sofia, certified meeting planner in Sofia, channel partner offsite events in Sofia, channel partner travel incentive in Sofia, cme conferences in Sofia, conference and event planning in Sofia, conference and meetings in Sofia, conference management companies in Sofia, conference meeting in Sofia, conference meeting planner in Sofia, conference planning companies in Sofia, conference services in Sofia, conferences in Sofia, convention meeting and event planner in Sofia, convention meeting planner in Sofia, corporate convention in Sofia, corporate event coordinator in Sofia, corporate event in Sofia, corporate event management companies in Sofia, corporate event planning in Sofia, corporate meeting in Sofia, corporate meeting management in Sofia, corporate meeting planning in Sofia, Corporate MICE travel event in Sofia, dealer conference in Sofia, dealer convention in Sofia, dealer meeting in Sofia, dealer travel incentive in Sofia, destination management company in Sofia, distributor travel incentive in Sofia, doctors conference in Sofia, employee conference in Sofia, Employee Off-sites in Sofia, entrepreneur conference in Sofia, event companies in Sofia, event hosting company in Sofia, event management agencies in Sofia, event management companies in Sofia, event management in Sofia, event organisers in Sofia, event organising companies in Sofia, event organizers in Sofia, event planner in Sofia, event planner needed in Sofia, event planners in Sofia, event planning agencies in Sofia, event planning and coordination in Sofia, event planning vendors in Sofia, events at Sofia, events in Sofia, famous event planners in Sofia, famous event planning companies in Sofia, find event planner in Sofia, global business conference in Sofia, health conference in Sofia, i need an event planner in Sofia, incentive travel event in Sofia, incentives in Sofia, international conference in Sofia, large event planning companies in Sofia, list of event companies in Sofia, list of event management companies in Sofia, local event planners in Sofia, local event planning companies in Sofia, Media FAM Trips in Sofia, meeting and convention planner in Sofia, meeting and event planning companies in Sofia, meeting and event planning in Sofia, meeting convention and event planners in Sofia, meeting event planning companies in Sofia, meeting planner in Sofia, meeting planner organizations in Sofia, meetings and incentives in Sofia, meetings in Sofia, mice companies in Sofia, mice events in Sofia, need an event planner in Sofia, offsite event in Sofia, offsite retreat in Sofia, organising a dealer offsite event in Sofia, organising a distributor offsite event in Sofia, organising a doctors conference event in Sofia, organising an awards ceremony in Sofia, organising an employee offsite event in Sofia, organising an event in Sofia, pharmaceutical event in Sofia, pharmaceutical event planning in Sofia, planning a dealer offsite event in Sofia, planning a distributor offsite event in Sofia, planning a doctors conference event in Sofia, planning an awards ceremony in Sofia, planning an employee offsite event in Sofia, planning an event in Sofia, sales incentive in Sofia, sightseeing in Sofia, special event planning companies in Sofia, strategic planning offsite in Sofia, Team Building Events in Sofia, team building retreats in Sofia, team offsite in Sofia, team outing ideas in Sofia, Team Retreats in Sofia, the best event planners in Sofia, the best event planning companies in Sofia, top 10 event management companies in Sofia, top corporate travel incentive destinations, Sofia, top event management companies in Sofia, tour itinerary for Sofia, travel guide for Sofia, what to do in Sofia,