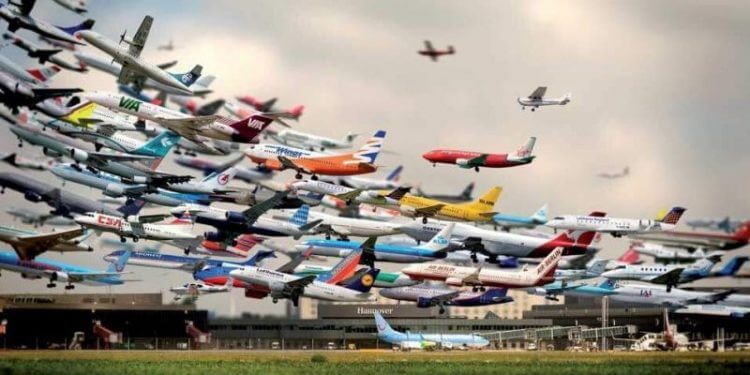 From India, connectivity to Singapore is excellent. Many airlines, such as Singapore Airlines, Jet Airways, etc., operate direct flights from most major Indian cities as well as some tier 2 cities. There is a mix of full service as well as low cost carriers to choose from.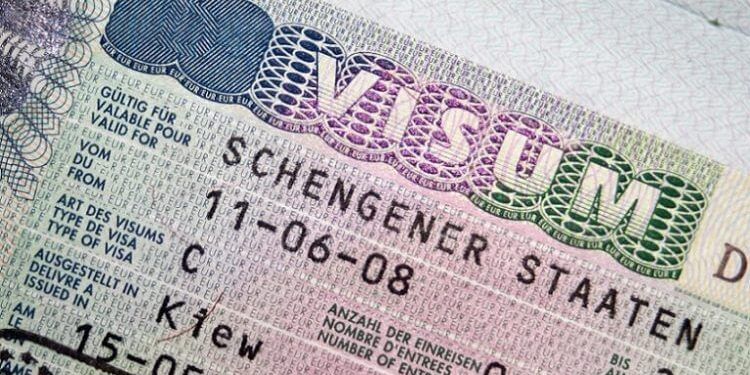 Indian citizens need a visa to enter Singapore. The application process is fairly simple & straight forward. It takes about 3-4 working days to obtain a visa.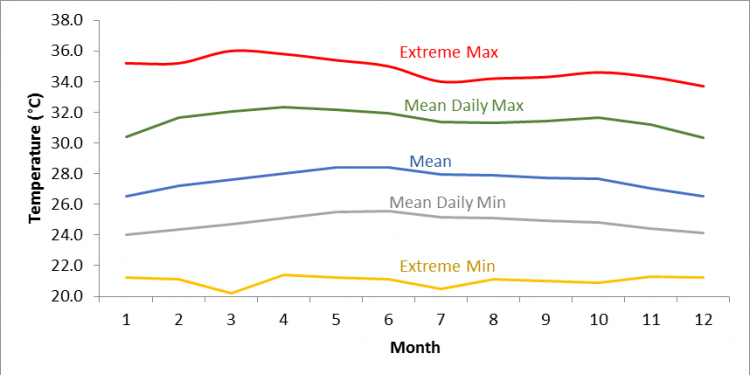 Singapore, located close to the equator, has a year round tropical climate with temperatures ranging from 27&deg - 30&deg C.

The monsoons start in November and last until January. The months of February, March and April are quite pleasant but the peak season when one will find most visitors is from July to September.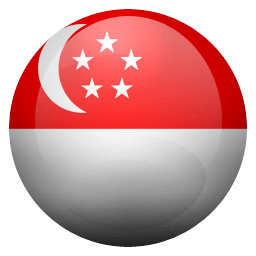 Each time I've visited Singapore, the city has never failed to amaze me with its efficiency. From the time one lands to clearing passport control, collecting your luggage, getting a cab and reaching your hotel, is rarely ever more than an hour! Everything JUST WORKS in this city!

This city holds a unique attraction for event planners. Rated as one of the top MICE destinations for several years in a row, Singapore is easily accessible from any corner of the world and the support event planners receive from Singapore Tourism Board and the Singapore Exhibition & Convention Bureau is amazing.

There are enough and more hotels at varying price points to choose from and there are venues to suit any size and style of audience and event. Singapore offers a balanced mix of business and leisure for conference & exhibition delegates.


WHAT NOT TO MISS IN SINGAPORE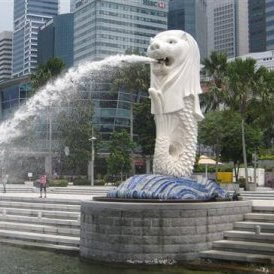 Merlion Statue
Built in 1972, the Merlion has been a symbol of Singapore through the ages and remains the quintessential selfie spot on everyones trip.

The fish body represents Singapore's origin as a fishing village & the lion head represents Singapore's original name — Singapura — meaning "lion city".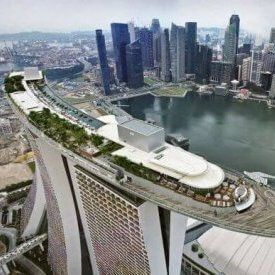 SkyPark Observation Deck
57 storeys above, on the Marina Bay Sands hotel, the observation deck features an infinity pool (open only to hotel residents), and some stunning views of Gardens by the Bay.One can see Marina South Pier all the way out to the Singapore Strait. For photographers, this is arguably the most vantage point in the city.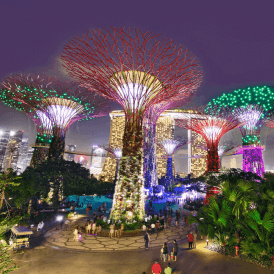 Gardens by the Bay
Gardens by the Bay is a nature park spanning 101 hectares of reclaimed land. It is a showpiece of horticulture and garden artistry.The park comes alive after sundown when the trees are beautifully illuminated making it look absolutely spectacular.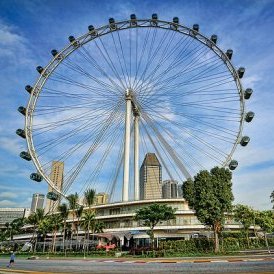 Singapore Flyer
The Flyer, similar to the London Eye, is a giant observation wheel offers 360-degree city views, a panorama that stretches to parts of Malaysia and Indonesia on a clear day.Be warned, one trip takes about 30 minutes and seems painfully slow!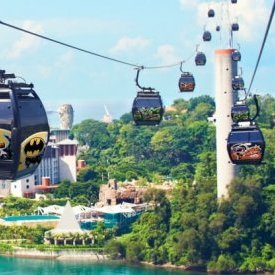 Sentosa
Hop on a cable car from Mt. Faber and head over to Sentosa. Sentosa Island is home to many attractions; Siloso beach (ideal for team building events), SEA Aquarium, Dolphin Island and Universal Studios amongst many others.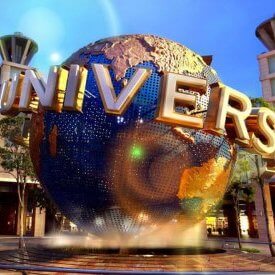 Universal Studios
Universal Studios is a hollywood themed park, bringing alive the movies through various rides, shows and attractions.Make sure you don't miss the main street parade and the closing fireworks ceremony in the evening.
RETAIL THERAPY
For those all important souvenirs & gifts to take back home, you should head over to either Mustafa Shopping Centre, Bugis Walking St. or Pagoda St.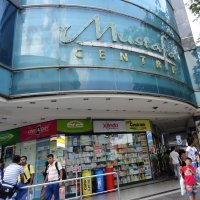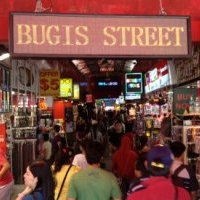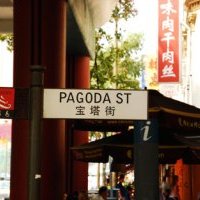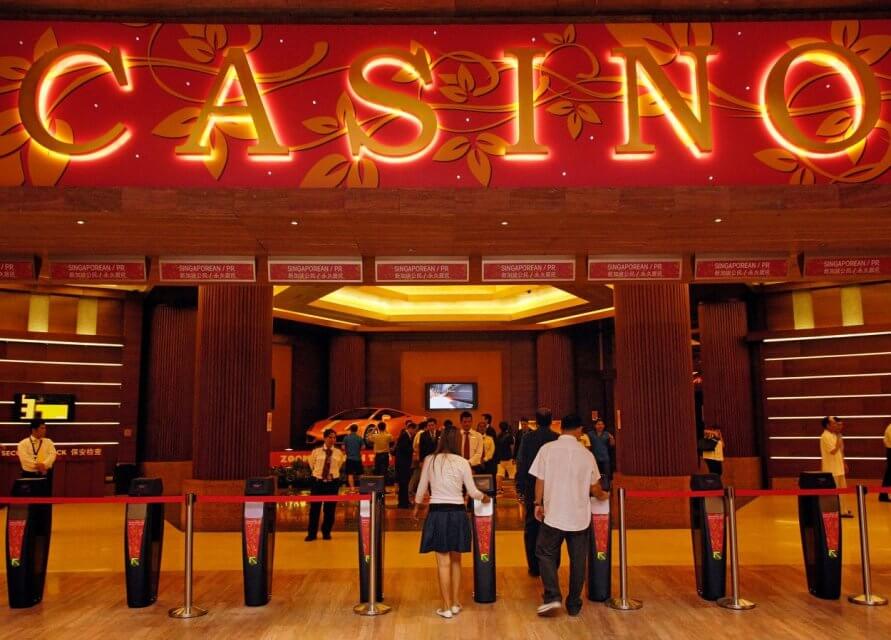 Singapore's Casinos
Singapore has 2 casinos - The Marina Bay Sands Casino which sprawls across 15000 sq. mts. with over 600 table games, and, the equally large, Resorts World Casino, located on Sentosa island.Both casinos have a strict dress code and floor rules - guests wearing singlets, shorts, slippers, hats / caps, helmets, sunglasses, masks, veils or any other items which conceal their facial features (fully or partially) are prohibited from entering the Casino.
And, the most important thing to remember - bring your passport otherwise you will not be allowed in!
Do get in touch with us, via the contact form at the bottom of the page, if you need help organising an event, exhibition or employee / dealer offsite in Singapore.
annual convention in Singapore, annual event in Singapore, association conference in Singapore, association meeting in Singapore, Away Days in Singapore, best event company in Singapore, best event management companies in Singapore, best event organizer in Singapore, best event planner in Singapore, big event planning companies in Singapore, biomedical conference in Singapore, biopharmaceutical conferences in Singapore, business conference in Singapore, business conventions in Singapore, business events in Singapore, business leadership conference in Singapore, business seminars in Singapore, car dealer conference in Singapore, certified meeting planner in Singapore, channel partner offsite events in Singapore, channel partner travel incentive in Singapore, cme conferences in Singapore, conference and event planning in Singapore, conference and meetings in Singapore, conference management companies in Singapore, conference meeting in Singapore, conference meeting planner in Singapore, conference planning companies in Singapore, conference services in Singapore, conferences in Singapore, convention meeting and event planner in Singapore, convention meeting planner in Singapore, corporate convention in Singapore, corporate event coordinator in Singapore, corporate event in Singapore, corporate event management companies in Singapore, corporate event planning in Singapore, corporate meeting in Singapore, corporate meeting management in Singapore, corporate meeting planning in Singapore, Corporate MICE travel event in Singapore, dealer conference in Singapore, dealer convention in Singapore, dealer meeting in Singapore, dealer travel incentive in Singapore, destination management company in Singapore, distributor travel incentive in Singapore, doctors conference in Singapore, employee conference in Singapore, Employee Off-sites in Singapore, entrepreneur conference in Singapore, event companies in Singapore, event hosting company in Singapore, event management agencies in Singapore, event management companies in Singapore, event management in Singapore, event organisers in Singapore, event organising companies in Singapore, event organizers in Singapore, event planner in Singapore, event planner needed in Singapore, event planners in Singapore, event planning agencies in Singapore, event planning and coordination in Singapore, event planning vendors in Singapore, events at Singapore, events in Singapore, famous event planners in Singapore, famous event planning companies in Singapore, find event planner in Singapore, global business conference in Singapore, health conference in Singapore, i need an event planner in Singapore, incentive travel event in Singapore, incentives in Singapore, international conference in Singapore, large event planning companies in Singapore, list of event companies in Singapore, list of event management companies in Singapore, local event planners in Singapore, local event planning companies in Singapore, Media FAM Trips in Singapore, meeting and convention planner in Singapore, meeting and event planning companies in Singapore, meeting and event planning in Singapore, meeting convention and event planners in Singapore, meeting event planning companies in Singapore, meeting planner in Singapore, meeting planner organizations in Singapore, meetings and incentives in Singapore, meetings in Singapore, mice companies in Singapore, mice events in Singapore, need an event planner in Singapore, offsite event in Singapore, offsite retreat in Singapore, organising a dealer offsite event in Singapore, organising a distributor offsite event in Singapore, organising a doctors conference event in Singapore, organising an awards ceremony in Singapore, organising an employee offsite event in Singapore, organising an event in Singapore, pharmaceutical event in Singapore, pharmaceutical event planning in Singapore, planning a dealer offsite event in Singapore, planning a distributor offsite event in Singapore, planning a doctors conference event in Singapore, planning an awards ceremony in Singapore, planning an employee offsite event in Singapore, planning an event in Singapore, sales incentive in Singapore, sightseeing in Singapore, special event planning companies in Singapore, strategic planning offsite in Singapore, Team Building Events in Singapore, team building retreats in Singapore, team offsite in Singapore, team outing ideas in Singapore, Team Retreats in Singapore, the best event planners in Singapore, the best event planning companies in Singapore, top 10 event management companies in Singapore, top corporate travel incentive destinations, Singapore, top event management companies in Singapore, tour itinerary for Singapore, travel guide for Singapore, what to do in Singapore,